Development of New Biopolymers for Medical and Therapeutic Applications in Aged Patients
Researchers:
School of Biological Sciences, USM
Prof. Dr. K. Sudesh Kumar (PI)
Prof. Dr. Mohammed Razip Samian
Advanced Medical and Dental Institute, USM
Assoc. Prof. Dr. Bakiah Shaharuddin
RIKEN
Dr. Keiji Numata
Dr. Hideki Abe
Dr. Jo-Ann Chuah
Summary:
Advanced age results in various complications during surgery and interventional therapy. The main causes of which can be attributed to the slow healing process in aged patients and the choice of biomaterials used. Stiff synthetic patches are unable to adequately heal repaired tissues. Only a limited number of synthetic biomaterials are currently available in the market. Therefore, there is a need to develop biomaterials that have a wide range of properties and functions suitable for aged patients and slow healing interventional treatments. Polyhydroxyalkanoates (PHA) have been extensively studied as potential biodegradable and biocompatible materials for in vivo applications as implantable tissue engineering material and control release vector for various drugs. Silks represent a unique family of structural proteins that are biocompatible, degradable and mechanically superior, offer a wide range of properties, are amenable to aqueous or organic solvent processing and can be chemically modified to suit a wide range of biomedical applications. However, the suitability of these materials for aged patients have been poorly studied. Dual drug delivery systems have become the popular choice for combined administration of different drugs and optimization of therapeutic effects. PHA or silk nanoparticles containing the model drugs will be synthesized, characterized and immobilized into silk hydrogel containing another type of model drug. These dual drug delivery systems will then be tested on stem cells isolated from aged patients. This study will enable us to achieve a better understanding on the biocompatibility of PHA and silk as suitable drug carriers for aged patients.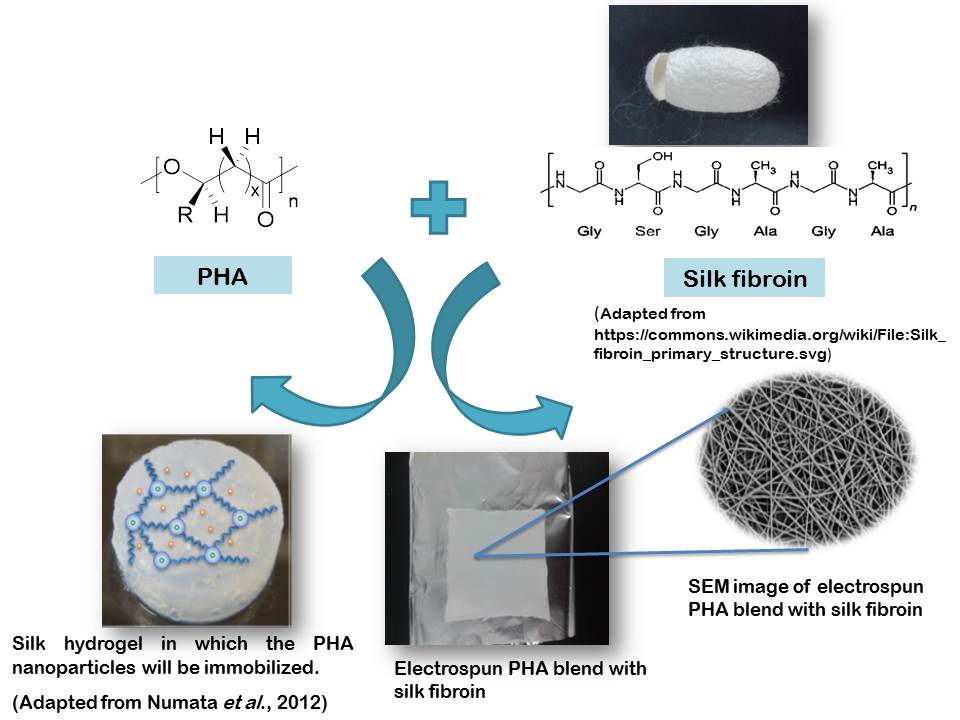 Potential application of PHA and silk fibroin in the development of new biopolymers for medical and therapeutic applications in aged patients.